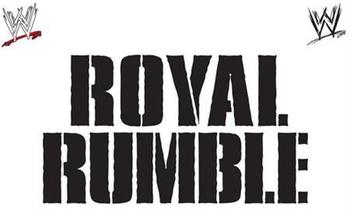 ----------------------------------------------------------------------------
2013 Royal Rumble Winner, Mr. Money in the Bank, King of the Ring, these are the 'other' titles the WWE has. Each of these are very prestigious and mean a guaranteed push for the person who receives these honours. Now, it can be too early to tell who should win these titles, but let's give it a shot anyway.
Royal Rumble Winner
Ah, the Royal Rumble, it's arguable that this is everyone's favourite match to look forward to every year and why not? 30 guys all compete for that championship spot at WrestleMania. The big question is, who should get the right to point at the WM sign and set off fireworks? Odds are in 2013 it's gonna be someone who is already a main eventer, because let's face it, not many guys ready to move up and the Rumble is a huge gamble on a non-main evener, but in the past, it has paid off and guys have been pushed to the stars! In my opinion, there are 2 guys who can make this look good. Cody Rhodes and The Miz. I also want the winner to go for the WWE Championship and MAIN EVENT WrestleMania, the way it SHOULD be. If they go for the World Heavyweight Championship, they should still end the night as well... It's only right. In this case, I'm gonna have to go with Miz, he and Punk can definitely having a WrestleMania class rivalry, both guys have worked their asses off and have earned their place.
Mr. Money in the Bank
There are normally 2 winners when it comes to the PPV, one for the WHC and one for the WWE Championship. This push however doesn't have to be as sudden as the Royal Rumble, it can help a guy progress over time, mould his craft. My choices for these titles, they are Wade Barrett (WHC) and Kofi Kingston (WWE). Why these guys you ask? Well I think Wade can really make it, but he needs to change a lot, the formula he's got is great. Rough guy who can beat your ass and talk guys into doing his bidding, great. But the packaging is, well, s***! I'm a Brit so I'm dying to see a fellow Englishman make it to the top. But his music is rubbish, his entrance is dull and he hasn't been having ANY memorable rivalries. He's had a great rivalry with Sheamus, so have him be WHC and then have those guys go at it.
As for Kofi, well let's just say, he's more then paid his dues and is a great in-ring guy (minus the annoying celebrations like the 'Boom Drop' and the slow "Boom... Boom.. Boom, *Missed kick). So yeah, he needs to get more charisma going my friend and DEFINITELY needs work on his mic skills. I want 2009 Kofi who feuded with Randy.
WWE King of the Ring
Now, the King of the Ring is a very big IF. I have no idea why though, it's prestigious, everyone loves the tournament and it's great way to push mid-carders. The one thing I would change however is to stop the winner coming out in the 'Let's play dress up outfit'. I don't mind them getting the crown and the septor and all of that stuff when they get presented as the winner, but wearing it after the tourny looks a little silly. Maybe they can be presented with a title belt, one that isn't defended but the guys can put in their trophy cabinets... Anyway I'm mumbling, so let's talk winner. I'm feeling Damien Sandow for this one. This title is really only made for arrogant heels, and Damien is one who can back his s*** up, so it would work wonders for him.
--------------------------------------------------------------------------
What do you guys think, who should win these prestigious titles?
OPTIONAL:
- What would you like to change about some of them?
- Any ideas for different titles and tournaments (not championships)?
Personally I wouldn't mind them having a Miss WrestleMania back every year, but ONLY if the division had some decent women in and not having a f***ing drag queen win it.