| | |
| --- | --- |
| FunKay the Inevitable | 05-31-2017 09:38 AM |
---
The UK General Election [2017 Edition]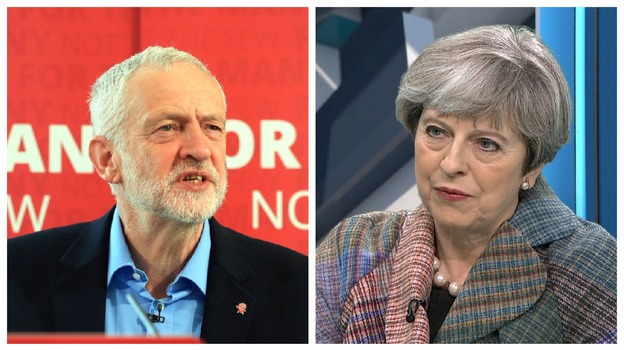 It's hardly the fate of the world or been filled with the vitriol and loathing of the US elections last year, but here on the other side of the Atlantic we have ourselves an election all of our own to take us into Brexit and God knows what on the other side of it all. That takes place on the 8th (next Thursday).
The battle is pretty straight forward: either we're getting continued, sustained, and deepened conservatism from incumbent Prime Minister Theresa May, or we get taken in a totally different direction by 'mad-lefty' Labour leader Jeremy Corbyn. The liklihood is that May wins, but her previously Iron Lady-lite persona has been heavily damaged and Corbyn's stock has risen in a good number of circles - having been 'un-electable' all of six weeks ago, he's on course to take more seats than his predecessor.
There are many irons in this fire though with the mainstream parties not really involved in Northern Ireland, the SNP seeking to keep hold of their utter dominance in Scotland and Plaid Cymru trying to make in-roads in Wales. And lets not forget to mention the potential resurrection (or confirmation of death) of the Liberals and lest we forget UKIP and their apparently obvious, yet slow demise.
So what do you make of it all? Do you care? Are you feeling dirty for wanting a Tory win, or vice-versa, a Socialist in power? Going to vote for one of your local parties or one of the smaller ones? Or are you just bemused by the whole thing?
| | |
| --- | --- |
| Барбоса | 05-31-2017 10:20 AM |
---
May's campaign has been an absolute disaster. It has looked like the Conservatives were not at all prepared for the calling of an election, repeating their mistake of the EURef. I mean their manifesto contained severe cuts which would affect their core vote in the over 65s - who the fuck signed off on that?

On top of that, the idea that a good mandate would have any impact on Brexit negotiations was ludicrous. Now, as it stands she is in danger of not only not getting her improved mandate, she is looking in real danger of losing her majority and even some danger of losing Downing Street (although would the SNP and LD really make Corbyn PM?).

I still think she will scrape by, but be left with accusations of "what was the fucking point of that?"
---
One of these two have mentioned improving the north east infrastructure. Their party will get my vote.
| | |
| --- | --- |
| Stone Cold Tea | 05-31-2017 11:09 AM |
---
How the fuck can we trust a someone to lead us into Brexit negotiations when she won't even debate her opponent. She's a fucking joke who chanced her way into office and the sooner the Conservatives are out the better. Vile, elitist pieces of shit raping the country of its assets. This is the cunt that has the balls to say Corbin is an IRA sympathiser whilst she selling arms to the Saudis who fund fucking ISIS.

And before anyone asks, no I am not stupid enough to believe in everything Corbyn says or believe it is achievable but at least he's a decent man with good intentions.

As for the media in the lead up to this election they should be fucking ashamed. Bias after bias it's been a hatchet job but guess what. It's backfired. People sympathise with Corbyn now.

Let's make June the end of May.
| | |
| --- | --- |
| Uncle Sam | 05-31-2017 11:15 AM |
---
My rule of thumb is that polls are always far too generous to Labour, even when they take that generosity into account in their methodology. I'd be surprised - even with, overall, how poor May has been and how well Corbyn has done during the campaign - the Tories don't increase their majority by at least twenty seats. In short, we'll get continued Tory rule but less euphoria surrounding May, who is basically incompetent (and who should be thankful that Donald Trump has given that word new meaning).

Of course, some polls are projecting a hung Parliament and some are projecting a >100 seat majority for the Tories, so... shrug.

I've actually been out on the doorstep this election. If Labour hold Hove and Old Bermondsey, that'll be all my doing. The Tories put a nutcase up in Hove and Peter Kyle is genuinely incredible as a person and an MP so I'll be crushed if that one changes hands.
---
Have they let you back in the party Sam?
| | |
| --- | --- |
| Uncle Sam | 05-31-2017 11:19 AM |
---
Quote:
---
Originally Posted by Lee (Post 5702449)
Have they let you back in the party Sam?
---
Yep. They genuinely sent me a letter of apology.
| | |
| --- | --- |
| Uncle Sam | 05-31-2017 11:23 AM |
---
For what it's worth, regarding the debates, I know it's consensus that Corbyn can't tie his shoe laces but Corbyn definitely comes over well in that sort of environment when he's the only one in the room who isn't a fucking android (see also: the Labour leadership debates). There's a reason May doesn't want to stand opposite him, and it's not that he's an intellectual giant - it's that he seems normal and warm and she's real bloody weird.
| | |
| --- | --- |
| Tastycles | 05-31-2017 11:45 AM |
---
May will still piss it and probably win with an increased majority.

I'd love to be wrong, but I can't see it.

It's like the end of the trial in To Kill A Mockingbird. At least we made them think about it a bit.
| | |
| --- | --- |
| Барбоса | 05-31-2017 01:07 PM |
---
I have to laugh at the whole "she won't debate him" row. Some people have gone as far to say that it is against democracy... by that logic, only one or two elections in British history has been democratic.

In a way, May is right to point out that we are not in a presidential system, where personality skews the voting more (which is of course the go-to argument of people who have no personality or are weird). Such debates are also inherently more difficult for those in power as they are there to be shot at.

While it does not affect my voting choices, I cannot give my backing to Corbyn due to his IRA/Sinn Fein dealings. Sincere or not, accidental or not, he offered some level of legitimacy to their campaign of terror on both sides of the Irish Sea by being seen with them in public (this is a blindspot Corbyn still maintains with enemies of the state/our allies - meet with them in private and do not give them the propaganda coup you fucking moron); while some of his current cohorts were actively championing the IRA in opposition to the British state.

If nothing else, this snap election has highlighted the complete dearth of decent politicians in this land.

I would have real trouble voting for any of them with a gun to my head.
All times are GMT -5. The time now is

10:12 PM

.
Powered by vBulletin®
Copyright ©2000 - 2018, Jelsoft Enterprises Ltd.