| | |
| --- | --- |
| IrishCanadian25 | 02-21-2010 03:43 PM |
---
Bronze Medal Ladder Match - Jushin Liger (JAP) vs Rob van Dam (USA)

Rob Van Dam (USA)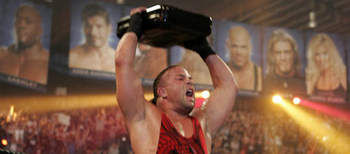 vs

Jushin Liger (JAP)

This is the Bronze Medal Match in the Ladder Event of the 2010 Wrestlezolympics. This match takes place IMMEDIATELY FOLLOWING Chris Jericho's victory in the Silver Medal Match, so fatigue WILL be a factor. Mysterio has left with the Gold Medal and is not participating, and Jericho has left with the Silver.
The Bronze Medal will be suspended from the rafters, 15 feet above the ring. Four (4) ten-foot and four (4) twelve-foot ladders will be placed at the entrance ramp. This match will be contested under Ladder Match Rules.
The first man to reach the Bronze Medal (as determined by which competitor receives the most votes in the next 5 days) will win the Bronze Medal. The loser goes home empty handed.
The match will open for discussion on Sunday, February 21st, and voting will begin on Monday, February 22nd. This is a non-spam thread, so if you decide to post, you must provide reasons why you are backing a particular wrestler. You may vote without posting.
| | |
| --- | --- |
| LigerBomb | 02-22-2010 10:25 PM |
---
...um let's see here... Liger is the better wrestler. Is faster, has better ground work, better power work, strong strikes, equally innovative in high flying, can get hard-core in matches, can take the big risks and as FATIGUE is a factor can absorb punishment better than Rob. Liger should take this...
| | |
| --- | --- |
| Tastycles | 02-25-2010 03:57 PM |
---
I can't believe Liger hasn't won a medal yet. RVD may well have a reasonably good history in ladder matches, but he made heavy work of the Big Show and lost to Sabu. What does that tell you? Ring experience counts for an awful lot in these sorts of matches. RVD has won ladder matches against Jeff Hardy before Hardy had ever won a singles one and ditto with Christian. Liger may be underexperienced, but he has a longer in ring history than RVD, and I think that's enough for the bronze.
| | |
| --- | --- |
| IrishCanadian25 | 03-01-2010 09:22 AM |
---
The voting ended tied, but 2 people voted for Liger, whereas the Van Dam supporters were selectively mute. As a result, the bronze goes to Liger and Team Japan. RVD does not medal in the ladder event.
All times are GMT -5. The time now is

09:38 AM

.
Powered by vBulletin®
Copyright ©2000 - 2018, Jelsoft Enterprises Ltd.