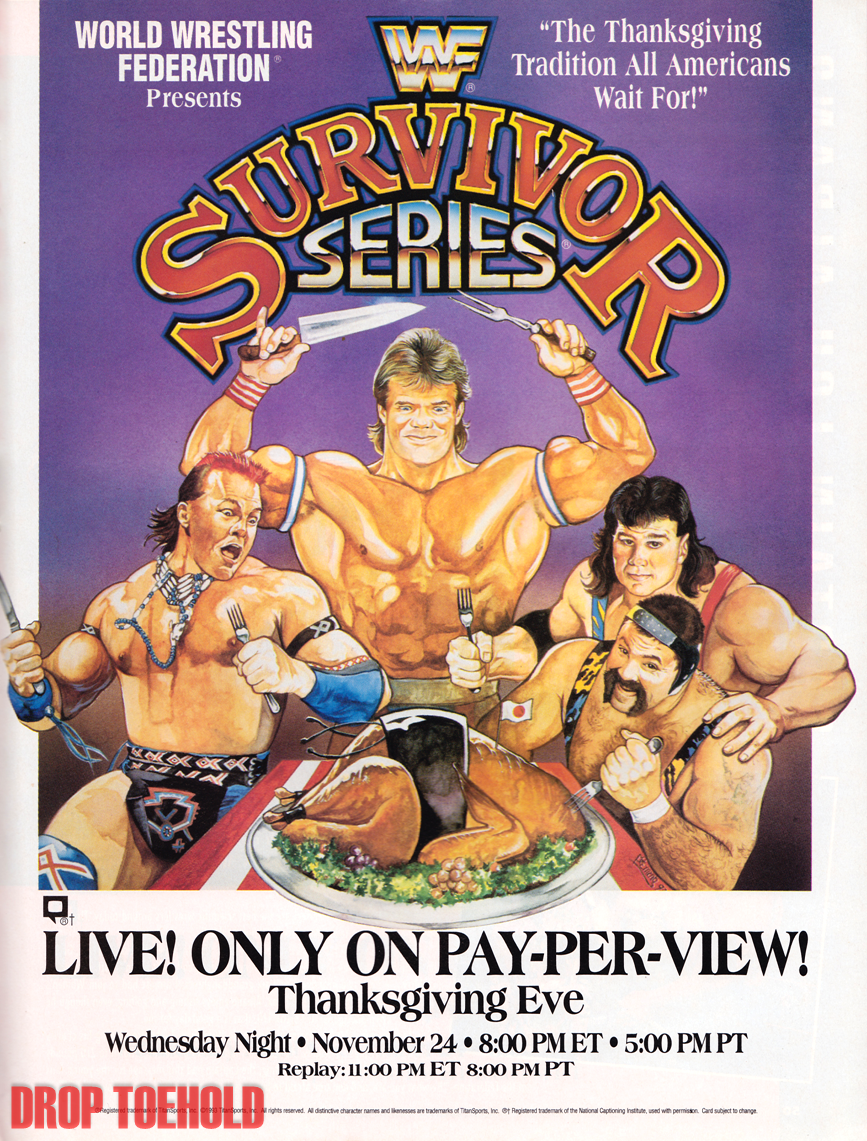 Actual results:
1. Razor Ramon, "Macho Man" Randy Savage, Marty Jannetty and The 1-2-3 Kid def. Irwin R. Schyster, Diesel, "The Model" Rick Martel and Adam Bomb
Survivors: Marty Jannetty and The 1-2-3 Kid
2. Bret Hart, Owen Hart, Bruce Hart and Keith Hart (w/ Stu Hart) def. Shawn Michaels, The Red Knight, The Blue Knight and The Black Knight
Survivors: Bret Hart, Bruce Hart and Keith Hart
3. SMW Tag Team Championship: The Heavenly Bodies (w/ Jim Cornette) def. The Rock and Roll Express (c)
4. Men on a Mission and The Bushwhackers def. Bam Bam Bigelow, Bastion Booger and The Headshrinkers (w/ Afa and Luna Vachon)
Survivors: Men on a Mission and The Bushwhackers (clean sweep)
5. Lex Luger, The Steiner Brothers and The Undertaker (w/ Paul Bearer) def. Yokozuna, Crush, Ludvig Borga and Jacques (w/ Mr. Fuji, Jim Cornette and Johnny Polo)
Survivor: Lex Luger
Although I applaud WWE for getting back to basics with this Survivor Series being nearly all elimination matches, it didn't change the fact that was an easily forgettable show. I also have to question the booking of some of these teams, like The Undertaker for example. When you think of a team called "The All-Americans", The Undertaker (pre-American badass) isn't exactly the first superstar that comes to mind. Also, with Jerry Lawler being in legal trouble, perhaps the team of knights should have been scrapped because they didn't make any sense on a team captained by Shawn Michaels. About the only thing I really enjoyed about this Survivor Series was the seeds being planted for the feud between Bret and Owen Hart, with Bret standing on the apron and Owen running into him, then getting rolled up for the pin to be the only Hart family member eliminated. That was well done. Wrestlers teaming up with partners that they would usually otherwise not team up with makes for a good opportunity for face or heel turn, and I feel they missed that opportunity with Rick Martel here, though his career was coming to an end by this point. But that is just one of the many things I would change. After much thought, I've decided to not hold the Sole Survivor match this year. With King of the Ring becoming prominent once again in 1993, I feel like it would be one thing too many to award each year. Let's get to the changes.
Rewriting the 1993 Survivor Series
1. Razor Ramon, Mr. Perfect, Marty Jannetty and The 1-2-3 Kid vs. Shawn Michaels, Diesel and Money Inc.
Lots of intertwining feuds in this one, folks. I'm not entirely sure why Mr. Perfect didn't appear here as scheduled, but if it was injury-related, we'll use him sparingly in this match. Razor was embroiled with Shawn Michaels the entire summer after ending Shawn's long run as Intercontinental Champion, but he also had his issues with DiBiase and IRS after they had their share of fun at his expense over his loss on MNR to the 1-2-3 Kid. There was of course no love lost between former tag team partners Shawn Michaels and Marty Jannetty, which Diesel was now involved in, always watching Shawn's back should Jannetty be lurking around the corner. This one would boil down to a tag team match in the end, with the last 4 remaining being Razor and Jannetty vs. Michaels and Diesel. In the end, the nearly 7' tall Diesel would prove that though he might be the newest guy on the block, he certainly could hold his own.
Survivors: Shawn Michaels and Diesel
2. "The Model" Rick Martel vs. "The Narcissist" Lex Luger
No "Made in the USA" Lex Luger for me, The Narcissist worked just fine. And after a long-running feud with Mr. Perfect would come to an end, which he got the better end of, he would find himself in a disagreement with Rick Martel after calling himself the greatest looking man in the history of WWE in an interview with "Mean" Gene Okerlund. Fans would actually find themselves sympathizing for Martel after being hit in the back of the head with Luger's infamous forearm. When the time came for these 2 men to lock up in the ring, Luger would prove that Martel was no match for him. Luger would then have his full-length mirror brought into the ring so he could get another good look at himself.
3. Owen Hart, Koko B. Ware and Men on a Mision vs. Jerry "The King" Lawler, Doink the Clown and The Quebecers
I was perfectly fine with the Hart family sitting ringside for this one, but did we need to Keith and Bruce Hart (constantly referred to as "the firefighter" and "the teacher") actually lace up the boots for this one? Owen could've just as easily led the way for the Hart family, with Bret having a title defense to worry about, and called on a former tag team partner and some friends to help him take on Lawler (for the sake of this rewrite we'll forget his legal issues going on at this time) and his band of misfits. It's also very easy to picture Doink (still a heel in my rewrites) playing practical jokes on Stu and Helen Hart. Owen successfully defends the Hart family name and doesn't show any signs of a heel turn as of yet.
Survivor: Owen Hart
4. Casket Match: The Undertaker vs. Yokozuna
I'm basically taking their confrontation at the 1994 Royal Rumble and moving it up a couple months in the hopes that it would mean The Undertaker could recover from his nagging injuries in time to be a part of WrestleMania X. Just like in reality, Yokozuna would get help from many heel wrestlers including the newly turned Crush, Bam Bam Bigelow, Papa Shango and The Headshrinkers.
5. Tatanka, Bob Backlund and The Smoking Gunns vs. Bam Bam Bigelow, Papa Shango and The Headshrinkers
With the eerie vision of The Undertaker on the big screen, vowing to never rest in peace despite having just been locked inside the casket, Bigelow and his teammates would find themselves looking over their shoulders and distracted going up against the team captained by Tatanka. With the lights flickering and rumbling of thunder throughout the matchup, The Headshrinkers would run away and leave Bigelow and Papa Shango to fend for themselves. They would be able to eliminate Bob Backlund and The Smoking Gunns, but Tatanka would be standing tall when all was said and done.
6. Tag Team Championship: The Steiner Brothers (c) vs. The Heavenly Bodies
Jim Cornette would bring the best that SMW had to offer to challenge the team on top of WWE in Rick and Scott Steiner. The tag team division was really lacking these days, so unfortunately matches against teams like The Headshrinkers and The Quebecers would have to be saved for bigger occasions. The Steiners would keep their winning streak going, only having lost by countout to The Nasty Boys in a title match on Monday Night Raw this past May, their 2nd defense after winning the titles from Money Inc. at WrestleMania IX.
WWE Championship: Bret "Hitman" Hart (c) vs. "Macho Man" Randy Savage
When we left off at SummerSlam '93, Randy Savage had saved Bret Hart from certain disaster when he had been blinded by Mr. Fuji, who threw salt into his eyes. The same had happened to Hulk Hogan at WrestleMania IX before Yokozuna delivered the bonsai drop, apparently ending Hulkamania forever. But before Yokozuna could come crashing down onto Bret Hart and take the WWE Championship away, Savage threw his headset off and pulled Bret Hart out of the ring to safety. In a promo on Raw the following week, Bret looked down at Randy who was again doing commentary and said, "I've watched the encore of SummerSlam and I owe a big thank you to the Macho Man. You helped right a big injustice here in the WWE when a lot of guys would've just stood by and watch it happen. And if there's anything I can do for you, just let me know, because I definitely owe you one." Savage would make his way into the ring with a microphone of his own. "You don't owe me nothin' Bret Hart, you understand? Friends help each other out and I wasn't about to watch that scumbag Yokozuna and his little sidekick Mr. Fuji take that WWE Championshp belt that I watched you EARN, yeeeah! ...BUT, with that said...there is somethin' you could do for me. I gotta know somethin'. I gotta know who really is the best there is, the best there was, and the best there ever will be, dig it? So I'm askin' you Bret Hart, will you take the challenge? Will you take on the Macho Man? I'm thinkin' Survivor Series, you and me, we do the thing, for the belt, and we find out who's the cream of the crop! Ohhh yeeeeah!" Bret looks to the fans as they cheer in approval of what would undoubtedly be a WrestleMania-caliber match for the ages. Finally, the champion answers, "You know you and I have never really crossed paths. And I'd be lying if I didn't say I wondered a time or two about what would happen if that day came. So if you're asking for a shot at me and the World Wrestling Entertainment championship belt, then Randy Savage...it would be an honor!"
On Thanksgiving Eve, a dream match would finally come to fruition when the Hitman and Macho Man would lock up in the Boston Garden. Though Bret would kick out after the flying elbow drop, Savage would also get to the ropes when placed in the Sharpshooter. In the end, Savage would place Hart in a sleeper hold and Bret would boost himself from the 2nd turnbuckle to fall backwards onto Savage for the 3 count (see Hart and Piper's finish from WMVIII, which never happened in my rewrites). Savage would also think carefully about stooping to heel tactics while the ref was knocked unconscious, holding the ring bell over Hart's head, but thinking better of it. After the belt was once again placed around the waist of Bret Hart, he would offer a handshake which Savage accepted. The Excellence of Execution would have a career year in 1993, winning the Royal Rumble, dethroning Ric Flair at WrestleMania and going into 1994 still champion after successful title defenses against Razor Ramon, Bam Bam Bigelow, Yokozuna, The Mountie, Papa Shango and Randy Savage.
Here is a summary of title holders for the past year in this series.
WWE Championship

Ric Flair
Bret Hart (WrestleMania IX)
2 less title changes than reality, with Yokozuna and Hulk Hogan both winning in the same night at WMIX, and of course Yokozuna winning for a 2nd time at King of the Ring.
Intercontinental Championship


Shawn Michaels
Razor Ramon (SummerSlam)
3 less title changes than we actually had. In reality, it would be Michaels, then Jannetty (May), Michaels (June) who would be stripped in September, and finally Razor Ramon.
Tag Team Championship


Money Inc.
Steiner Brothers (WrestleMania IX)
And finally, 3 less tag team title changes. We actually saw Money Inc and the Steiner Brothers swap them twice in June, with the Steiners dropping them for good to The Quebecers in September.
Thanks for reading. Feel free to comment and/or post your changes to this card.
Next up...the 1994 Royal Rumble!