Live From West Palm Beach Florida: Circuit 1989
Commentators:
Vince McMahon and Jessy 'The Body' Ventura
http://www.youtube.com/watch?v=i_SUT...=results_video
The Camera pans into the Arena were we go straight to Vince McMahon and Jesse Ventura!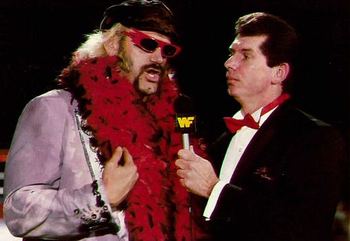 Vince;
"We our here once again for WWF Superstars! Good Evening Florida and everybody else watching at home. I am Vince McMahon once again alongside Jesse Ventura and Jesse Saturday Nights Main Event is over as we set our sights on King Of The Ring!"
Jesse;
"One thing we know for sure won't be happening at King Of The Ring is the Wrestlemania rematch between Hulk Hogan and Earthquake! The Giant emerged victorious at Main Event and I was there to witness the clean victory McMahon!"
Vince;
"Clean Victory? The last time we all looked, Hulk Hogan was handcuffed to the ropes and Arnold Schwarzenegeer was laid out and over them stood Jimmy Hart, Earthquake and that no good sell out Jack Tunney!"
Jesse;
"We all seen it coming McMahon! Tunney is a genius! What better way to get a good strong reputation around here than to align yourself with the WWF Champion Earthquake!"
Vince;
"Your an idiot! In any event we will have more on that situation a little later on and during the course of tonight and next weeks show we will be hosting King Of The Ring Qualifying matches!"
Jesse;
"King Of The Ring! You can honestly say McMahon that whomever walks out The King will be a huge star here in the WWF for sure!"
Vince;
"Indeed! Let's go down to ringside were we will have our second qualifier and if you watched Saturday Nights Main Event then you will know that Mr.Perfect is our first qualifier and he will meet the winner of this next match at the event!"
Quote:
---
Match #1
King Of The Ring Qualifier
'Rowdy' Roddy Piper vs. 'The American Dream' Dusty Rhodes
Earl Hebner is assigned this one fall contest. The bell rings and here we go. Fans like both of these competitors. Piper and Rhodes lock up front and centre. They go back and forth with wrist locks and head lock take downs. Dusty Rhodes swings Piper of the ropes and connects with a back body drop. He does abit of dancing giving Piper the chance to get back up.
Rhodes turns around and Piper pokes his eyes. He then locks Dusty's head under his arm. He connects with a huge DDT. Rhodes kicks out as Piper questions the referee. Dusty gets back to his feet and throws Piper to the floor where the two brawl. Piper reverses a swing into the turnbuckle and Dusty gets swung head first. Piper rolls Rhodes back in the ring and makes the cover. This one is over.
Winner By Pinfall: 'Rowdy' Roddy Piper
---
Quote:
---
Piper leaves the ring and retreats up the entrance way. Dusty Rhodes gets back to his feet and claps on Piper when from behind comes Bad News Brown. He gets in the ring and hits a mighty Colthesline on Dusty Rhodes. Referees run out and try to get him out but he clears the ring of referees and picks up Dusty and hits a dominator style move landing Rhodes on his head. Crowd boo Brown as poses to the crowd before exiting the ring.
---
Vince:
"Roddy Piper advances on to face Mr.Perfect but what about Bad News Brown returning and attacking Dusty Rhodes?"
Ventura:
"Brown is a beast McMahon and returning here tonight and attacking the loveable Dusty Rhodes is a great way to return"
Vince:
"Plenty more King Of the Ring matches to come tonight but standing by right now is The Intercontinental Champion Bret 'Hitman' Hart"
Mean Gene:
"Indeed I am here with Bret Hart and Mr. Hart last Saturday at Main Event you and Ultimate Warrior ingaged in a War of words leading to an attack by Ted Dibease and my question is why did you asist Dibease in attacking Warrior, I mean you two were bitter rivals"
Bret Hart reaches into his pocket and takes out cash...
Bret Hart:
"I don't like Dibease but he is rich and so I asked for his services and in return he could buy my services. So we conjured up a plan to take out Warrior and we succeeded in doing so..."
Dibease walks on camera...
Dibease:
"Everything has a price Mean Gene including a Champion like Bret Hart, If we can take out Warrior for good then Hart will grant me a title shot and its that simple and you know something, We may have had a war at Wrestlemania but we respect each other more than we respect that face painted goon Warrior"
Quote:
---
Match #2
King Of The Ring Qualifier
King Harley Race vs. Butch Reed
Nikolai Volkoff is accompaning Harley Race to the ring for some unknown reason. Harley Race removes his robe and crown. Out comes Butch Reed to a nice ovation. The bell rings and here we go. Both men lock up with Race taking down Reed in a headlock. Volkoff is swinging the Russian flag at ringside. Butch Reed starts shoulder blocking Race down followed by a few bodyslams and elbow drops. He covers Race but he kicks out. Race drop toe holds Reed to the floor were Volkoff uses this and hits Butch Reed with the flag. Race taunts the crowd while Volkoff rolls Reed back into the ring. Race covers Butch and this one is over. Same sort of finish as the last match.
Winner: King Harley Race
---
Vince:
"That is all she wrote Jesse! Another Qualifier here tonight and that is
the current King of the WWF...Harley Race! What a very physical battle"
Jesse:
"You can say that again McMahon and I'm alreadt cementing my pick at the event and my pick is none other than Harley Race"
Vince:
"Incredible! Folks still to come here on Superstars we will hear from Jack Tunney, Jimmy Hart and the World Wrestling Federation Champion Earthquake but up next we have a very special Championship match up between the Intercontinental Champion Bret 'Hitman' Hart and Tito Santana"
Quote:
---
Match #3
WWF Intercontinental Championship Match
Bret 'Hit Man' Hart (Champion) vs. Tito Santana
Out Comes Bret Hart to a large course of Booing from the WWF audience. Coming behind him is the Million Dollar Man Ted Dibease holding up Money. Bret Hart now has Dollar signs on his tights going through the pink heart. Bret awaits Tito Santana when suddenly The Ultimate Warriors music hits and out he runs. He enters the ring and goes straight for Dibease. Bret exits the ring as Warrior press slams Ted followed by a splash to his back. Warrior now sets his sights on Hart. Warrior chases Hart around the ring. Bret re-enters but Warrior cuts him off with a clothesline. Warrior grabs the Intercontinental and sizes up Hart! WHAM! Warrior gets revenge and hits Bret across the face. Warrior grabs Dibease and drags him from the ring and up the entrance way as Tito Santana makes his way down.

The referee rings the bell. Tito sees no fight in Bret and covers him. 1..2..! Kick out by Bret Hart. The referee tells Santana to back away for a moment while he checks on Hart who is trying to use the ropes as leverage. Bret Exits the ring and starts staggering up the entrance way. Santana from behind grabs Hart by the hair and brings him back to the ring. He throws Hart back in and as Santana climbs in Hart drops an elbow drop to the back of his head. Bret now goes back outside and this time grabs the Intercontinental Championship. He gets back in the ring and with the Intercontinental Belt in hand and referee trying to get it off him he quickly whacks Tito Santana on the back of the head. The Referee rings the bell as Bret exits the ring and up the entrance way with the belt.
Winner by Disqualification : Tito Santana
(Bret keeps belt under the DQ Rule)
---
Vince;
"Bret Hart has taking the cowards way out and got himself
Intentionally Disqualified therefore he is still the Intercontinental Champion"
Jesse;
"Oh Come On McMahon, Warrior had know business being out here. If You ask me Bret Hart did the right thing. It wouldn't be fair to Bret if he lost the belt here tonight"
Vince;
"Ultimate Warrior got his hands on Bret Hart but I don't think that will be enough for Warrior and I think we can surely count on a match between those two at a later date but coming up next folks, Treachery and Punishment befell an Actor and The Star Power here in the WWF! It was a Bodyslam Challenge between The regining WWF Champion Earthquake going up against Arnold Schwarzenegger. Arnold bodyslammed the giant when from behind, the special Referee Jack Tunney turned on Hogan and Arnold. Earthquake then bodyslammed Arnold to which Tunney rang the bell and declared Earthquake the winner."
Jesse;
"Yea I'll Admitt McMahon the beating Hogan and Schwarzenegger took after the bell was hard to watch. Jimmy Hart and Tunney handcuffed both men to the ropes and used fists and chairs to pumble and destroy Arnold and Hogan"
Vince;
"And here they come folks, Jimmy Hart, Jack Tunney and Earthquake"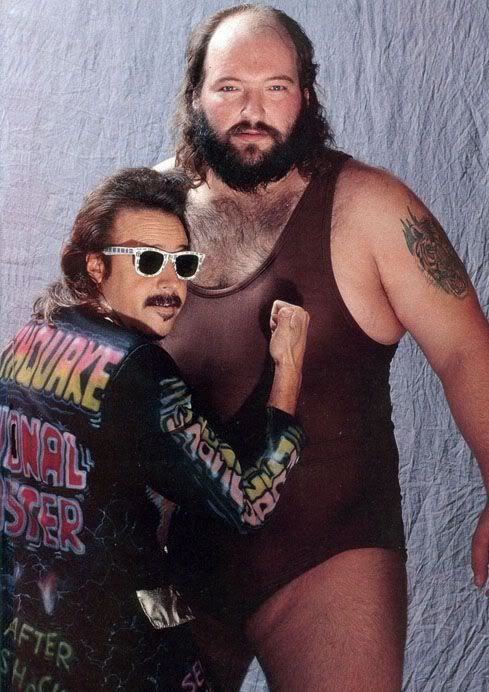 Quote:
---
In Ring Segment;
Jack Tunney, Jimmy Hart and Earthquake;

Hart and Earthquake lower the middle rope for Tunney to enter. Tunney and Hart our both wearing Hulkamania t-shirts but theres an X going through the Hulkamania logo and the word Dead written underneath. Earthquake stands with his arms folded.

Tunney;
"I want you all too notice the new Hulk Hogan t-shirts that were just released today by me, It Says Hulkamania...DEAD! Ha Ha Ha!!!!"

Jimmy Starts throwing t-shirts into the crowd and one at Howard Finkel who is instructed to wear it immediatley...

Tunney;
"You can Boo me and my boys all you want people but the fact is, we played all of you, Including that fat guy in the front row, The Hot Dog guy, that pretty brunette right there and of course....Hulk Hogan and his pet...Arnold Schwarzenegger who might I had is no longer contracted to us here in the WWF so Mr.Schwarzenegger you our here by only aloud entry to a WWF Event as a paying customer!"

Crowd start a "We want Hogan"

Tunney;
"What about an Earthquake chant People, He has been the hero here for over 2 months and yet you continue to chant hateful things to a normal guy. You might not want to cheer for the champion but the champion wants to give something back to you...Earthquake wants to defend the Championship at King Of The Ring in two weeks. But against who? We'll we have devised an Open Challenge to any Superstar in the back who wants a peice of this"

Tunney hands the microphone over to Jimmy Hart,

Hart;
"Ha!Ha! Thats my boy right there, Jack Tunney, the advisor for Earthquake! Yes! An Open Challenge. To anyboy who wants to get in the ring with....!

Vince;
"JESSE! Look!"

King Kong Bundy is slowly making his way down to the ring. Crowd don't know whether to cheer or boo. What is his intention?

Tunney;
"Hold on Big fella, Whatever you have in mind, Don't do it"

Bundy Gets in the ring and goes straight over to Earthquake. The two men stare each other down.

Tunney;
"Bundy, What....!"

Bundy cuts him off and grabs the microphone,

Bundy;
"I'll take up the challenge....Champ!"

Crowd start Chanting for Bundy,

Earthquake goes to hit Bundy but Bundy moves out of dodge and literally pushes Earthquake to the floor through the second rope which detaches from the turnbuckle. Jimmy Hart has his hands on his head in awe of what just happened, Bundy turns to face Tunney and hart but they scatter from the ring quickly. Bundy picks up the WWF Championship that is laying in the ring and drapes it over his shoulder.

Vince;
"Challenge accepted! The rope literally came loose after these giants collided"

Jesse;
"King Of The Ring will not be able to contain these beasts"

Vince;
"Incredible, Ladies and Gentleman that is all for tonight but join us next week for a very special edition of Superstars where it will be a special King Of The Ring Qualifying Event only with a few exceptions. Thanks for watching"
---